CHILI FAQs
What's a Malibu Chili Cook Off without chili?! Make sure to come by to try some amazing chili from our awesome chili chefs, available all weekend long for purchase. Looking for meat or vegan? We've got BOTH!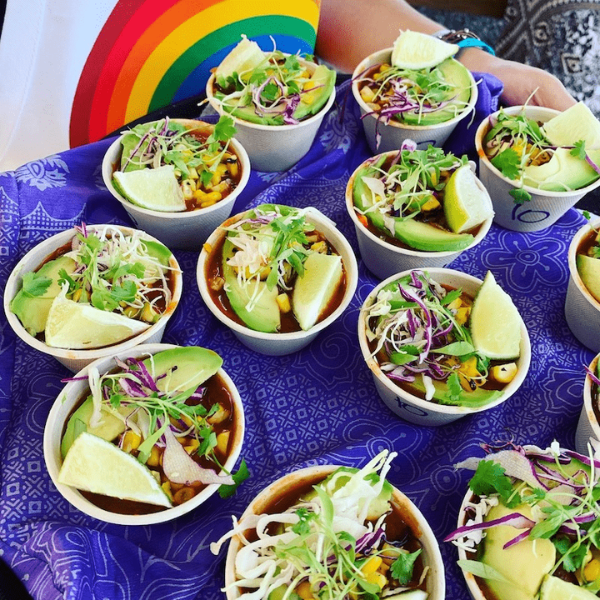 When and where can I buy chili?
Chili is available on-site all weekend long!!! Be sure to check our Event hours.
What types of chili are available for purchase?
Meat as well as Vegan chili is available.
How much does it cost to buy chili?
Chili pricing varies based upon vendor. Pricing generally ranges from $2 for a tasting to $14 for a bowl. All pricing is subject to change.
How can I enter the chili contest?
Believe it or not, it takes hard work and a passion for cooking LOTS of chili in order to participate in the chili contest. Please fill out our Vendor Inquiry Form here for more details.
When are the chili winners announced?
Chili winners are announced on site Saturday, Sept 3 at approximately 5PM. (Subject to change)
How can I vote for my favorite chili?
People's Choice Voting takes place on-site only, on Friday, September 2. (Voting will close for People's Choice end of day Friday)
2022 Chili Winners

Meat
1st Duke's Malibu
2nd UMG Chili Preppers
3rd Green Truck LA
Vegan
1st Beyond Meat
2nd Spanky's Catering
3rd Stoner's House Farm
People's Choice Duke's Malibu
Our Cook-Off Contestants come with a wide range of experience and passion for all things CHILI!
UMG Chili Preppers will be turning up the heat with their Award-Winning Texas Style Prime Rib Chili & First Place Impossible Chili.
Spanky's Catering is new this year! Mother and son team up to deliver a chili that is sure to be a crowd pleaser "Hot Stuff" chili offering a vegan option.
Beyond Meat is a proud sponsor of MCCO and will be entering their plant-based "Beyond Meat Smoked Chili", a savory Beyond Beef, beans, veggies and Mexican lager mixed with a blend of herbs and spices and topped with crispy jalapeño cornbread crumble, lime crema, and green onion.
Duke's Malibu is Malibu's very own local staple is joining the Cook-Off with a Hawaiian inspired Duke's Chili Ono (meat entry) and Aina Chili (vegan option).
The Green Truck is a local favorite having launched their business in Malibu in 2006. Culling years of experience, Chef Kam has come up with an award winning asian inspired Hoisin Chili and will be offering Green Truck Hoisin Chili (meat and vegan option).
Mestico is a past People's Choice Champion Award winner, returning with their Latin-Afro inspired chili "Love Muff Chili" (meat option) and new entry "Brazilian Rio Chili" (vegan option).
Stoner's House Farm has you covered with the absolutely delicious "Brisk-a-licious" (brisket based meat chili), "Chick-a-licious" (chicken chili), and "Veg-a-licious" (vegan option).
A BIG THANKS TO OUR AWESOME SPONSORS!